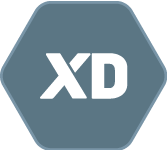 roXtra Document Workflow for standard-compliant Quality Management
Control and manage your quality management documents with individual workflows for all standards and regulations.
roXtra Document Workflow for standard-compliant Quality Management
Control and manage your quality management documents with customized workflows for all standards and regulations.
Much more than just document control:
The functions at a glance
Manage your knowledge centrally in one place.
In today's information society, employees often spend up to 20 percent of their total work time searching for information. Paper documents are copied, filed, and forwarded an average of five times. Not only does this add a lot of costs, but it also contributes to one of the most common causes of dissatisfaction in the workplace: Lack of information.
This is where roXtra Documents can provide a simple remedy. Manage all important company documents – and thus existing knowledge and relevant information – centrally in one place. Thanks to the web-based application of roXtra, you and your employees can access all digital documents (e.g. the QM manual) at any time, regardless of location. Various interfaces enable a fast and reliable data exchange. This creates acceptance among employees and managers.
Declare war on your paper chaos and make a lasting contribution to the success of your company with digital Document Management from roXtra!
Document lifecycle with individual workflows.
In addition to document management, you can use roXtra to manage your documents in accordance with standards. With an automated release and control process (document workflow), you can define how a document is routed through your company and assign specific roles to your employees - for example, processor, reviewer or releaser.
You can individually determine which document type should follow which workflow: For example, a process instruction or SOP follows a different control process than a form or checklist. The document workflows are freely configurable to meet your needs and requirements - according to all standards and regulations.
Incidental tasks are automatically generated by roXtra and distributed to the responsible employees. In order to check the validity of your documents, you can store corresponding resubmissions. This ensures that your documents are always up to date. During the revision of active documents, the previously valid revision status continues to be displayed to the readers. Drafts are not visible to recipients and readers, so that only released documents (such as work instructions) are available in the operational environment.
roXtra takes over the automatic, standard-compliant archiving and revision of your documents.
With roXtra Documents you can ensure that all employees work with the current version of a document at all times. During the revision of active documents, the previously valid revision status continues to be displayed to the readers. Drafts are not visible to recipients and readers, so that only released documents (e.g. work instructions) are available in the operative environment. This prevents the accidental use of outdated documents.
With the help of the automatic assignment of revision numbers, roXtra ensures complete and easily traceable QM documentation. In addition, you can compare and contrast two different revisions in a comparison view. Thus, revisions can be quickly recorded and checked. Outdated revision statuses are automatically stored by roXtra in a document history(archive) in accordance with the audit (roXtra Audits) .
Cross-system and efficient user management.
User and rights management of web-based software is often one of the most error-prone processes. The faster a company and its IT landscape grow, the more difficult it becomes to manage users. With the system-wide and efficient user management in roXtra, you always keep an overview and can easily define individual rights.
Especially for systems with a large number of users, the interface connections to different identity providers - including Active Directory, Entra ID or Okta - enable convenient transfer and maintenance of user master data from other systems. Define all access, editing and release rights individually in roXtra and organize your users by areas or different groups (e.g. by departments, etc.).
Find your QM documents in roXtra as quickly and easily as information on the internet.
Due to the fast, integrated full-text search, every employee can immediately find exactly the document he is looking for and needs. roXtra searches both, the metadata and the contents of the documents to which the employee has access rights. Simply enter one or more terms in the search line and roXtra will display the results. Using the "Advanced search" you can further specify your result list and save the search settings in a template and thus make them available to other employees.
Distribute relevant documents quickly and reliably.
Once you have released a document after editing it, you can inform all relevant employees about the changes. Immediate distribution of documents to specific recipients – for example to new employees – is also possible at any time. They automatically receive a reading task in roXtra and by e-mail.
If the recipient has taken note of the document, he or she can confirm this with a documented reading confirmation. This allows you to track which recipient has read the document at any time. In addition to the simple reading confirmation, you can optionally store a questionnaire for each document, which must be answered correctly. This ensures that the employees have carefully read and understood the document.
Integrate documents and information from roXtra into your process landscape.
Mapping process descriptions is much more than just "painting". It creates transparency, thus forming the basis for high process quality and paving the way for achieving your business goals.
With the integrated Flowchart-Designer, you can create transparent representations of your operational processes and organizational charts in an instant. This allows you to easily structure and organize your business processes and make them available to all stakeholders. The clear illustration provides information about all steps, responsibilities, tasks and decisions within a specific process and shows the connections between the individual processes.
For this purpose, directly store the relevant forms and documents from your roXtra documentation for the individual process steps. Even roXtra fields can be integrated into the processes and are automatically updated as database fields. Thus, the Flowchart-Designer additionally supports you in your standard-compliant QM documentation.
Easily create and design your process map, flowcharts, org charts, mind maps and more.
Business processes are as diverse as they are complex. Process maps provide an overview of all core elements and supporting processes and illustrate how they are linked to each other. With the integrated Flowchart-Designer you can easily illustrate and map the organizational structure as well as workflows and individual activities of your company clearly and concisely. A variety of styles, shapes, symbols and colors are available for this purpose.
The process modelling tool of roXtra offers you various tools and templates of basic formats and display forms - including flowcharts, process flows, organigrams, turtle diagrams and many more. These already provide you the basic structure and simplify the graphical creation and modeling of your processes. Thus, you can model your business processes without any training effort. Additional local programs, such as MS Visio, are not required for visualization.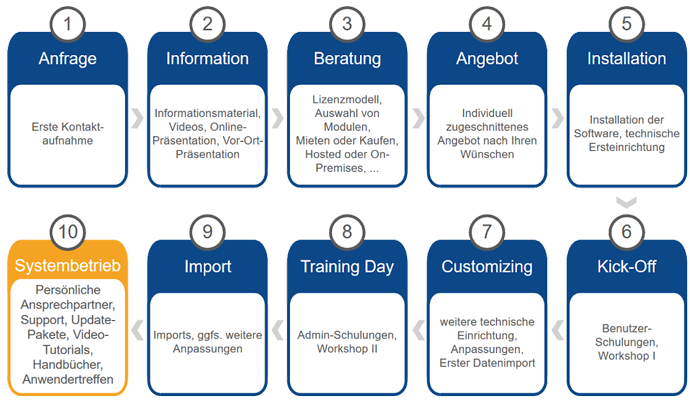 More information on Document Workflow with roXtra
QM document control made easy
Why roXtra Documents?
The goal of a standard-compliant and audit-proof document management is to provide documented proof of compliance and fulfillment of regulatory requirements. This plays a particularly important role in audits! In addition, careful documentation also contributes to more transparency within a company, a constant and central exchange of knowledge and the continuous improvement of processes (CIP).
With the QM Software roXtra, the management and control of your documents is made easy - and this over the entire document lifecycle for all guidelines and requirements such as ISO 9001, ISO 13485 as well as in the GxP-regulated environment and much more. Thanks to the fast and integrated full-text search, you always have an overview where each document is located.
Benefit from the user-friendly and intuitive user interface as well as an individual document workflow with clear and transparent release and control processes as well as automatic and audit-proof versioning and archiving. In addition, you have the possibility to visualize your business processes with the integrated Flowchart-Designer and to store forms, documents as well as information directly from your roXtra documentation. Thus, nothing stands in the way of a successful audit and ISO certification!
What is Document Workflow?
The term Document Workflow refers to a documented procedure that defines the entire workflow process of documented information within a company or organization. It thus forms the basis for a functioning and efficient quality management system. Depending on the quality anagement standard, manuals, checklists, procedural and work instructions, forms or SOPs – among others – must be controlled and documented in an audit-compliant manner throughout the entire document lifecycle: From creation and editing, through review, to release and distribution of the document.
Certified companies in particular – for example, in accordance with DIN EN ISO 9001 or other guidelines – have a large number of documents and records that need to be managed and administered. This usually leads to a considerable administrative effort and confronts Quality Management Representatives and other assigned employees with a major challenge in practice. Paper-based and manual methods quickly reach their limits. A Document Management System (DMS) provides a remedy and supports you in your quality management and in meeting your quality objectives.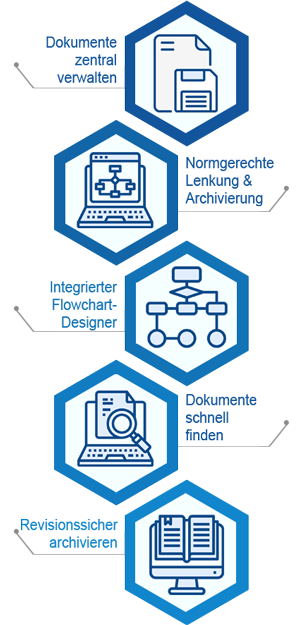 We will show you roXtra in a free and non-binding online presentation.