Digital Contract Management with roXtra
Keep an overview of your contracts and files, terms and notice periods in your company.
Digital Contract Management with roXtra
Keep an overview of your contracts and files, terms and notice periods in your company.
Easy maintenance and fast access:
The functions of digital Contract Management at a glance
Always react in time to upcoming deadlines or appointments with the help of roXtra.
Have you missed the notice period or the contract extension? In a company there are numerous contractual partners and consequently a multitude of deadlines that must not be lost of sight. With the roXtra Contracts module you can create various reminders and escalation deadlines for each contract and each contract file. Thus, you will always be automatically reminded of deadlines or dates and can take action if necessary.
If the responsible employee is absent, the deputy regulation in roXtra automatically takes effect. This ensures reliability in contract controlling! Regardless of whether a contract expires, a contract extension or a notice period is due – roXtra Contract Management informs the responsible employees in good time in the system as well as by e-mail, thus protecting you from unnecessary risks and costs. You can specify the frequency of the reminder and the person in charge to whom it is addressed.
In roXtra you can see at a glance which contracts and files exist on which topic.
Transparency in Contract Management is the key! This becomes particularly clear when an employee is looking for a contract but cannot find it because, for example, it is stored locally on another employee's PC or only as a paper file. This results in unnecessary costs in time and money.
The Contract Management Software from roXtra provides the solution by providing central storage of all contracts, files and the associated attachements as well as a clear search and sort function. roXtra is a web-based system, thus all responsible employees have access to the contracts and files at any time – independent of location (e.g. also from the home office) as well as department- or company-wide. If a document needs to be revised, this can be done via check and approval workflows in line with compliance requirements.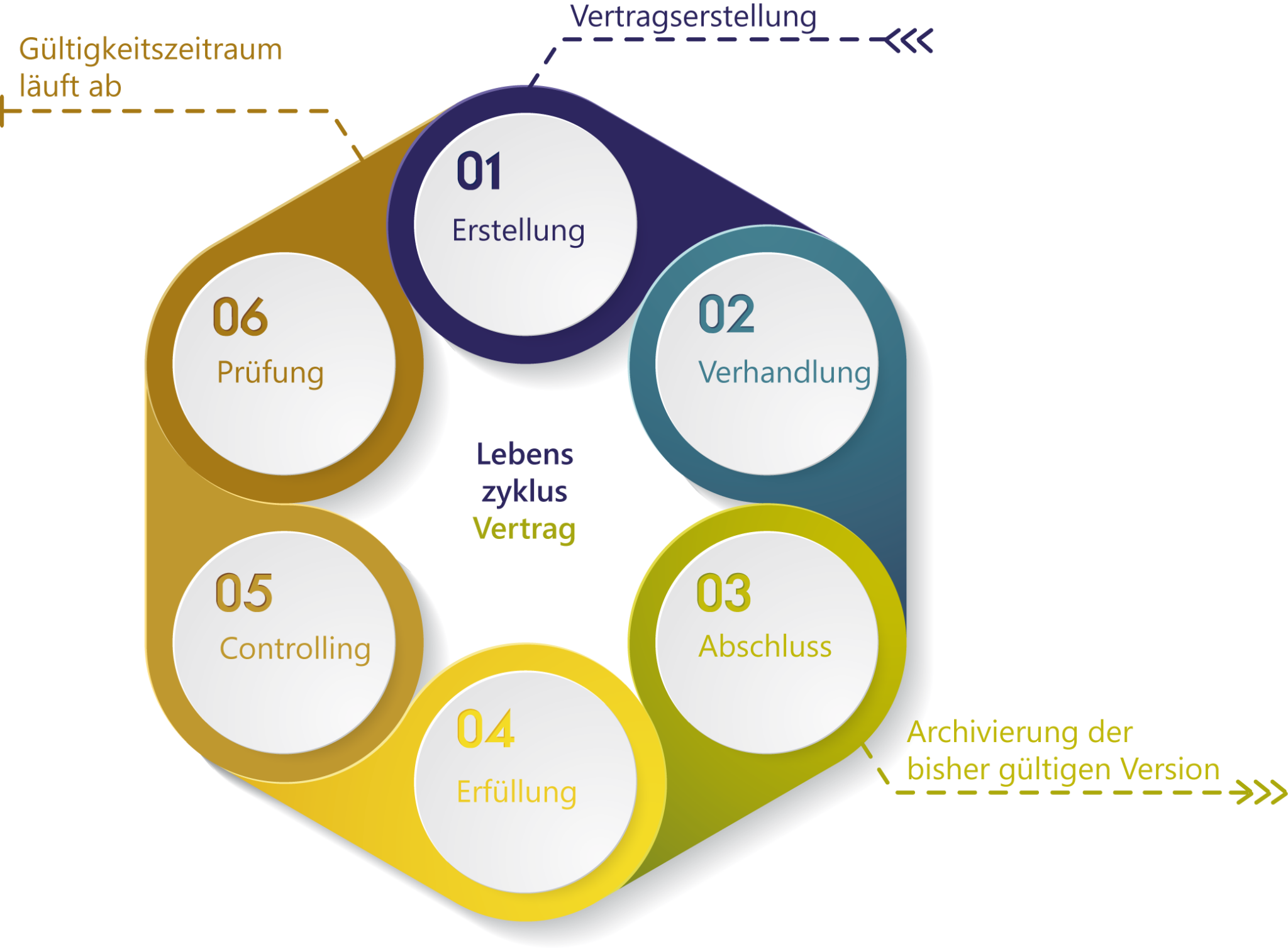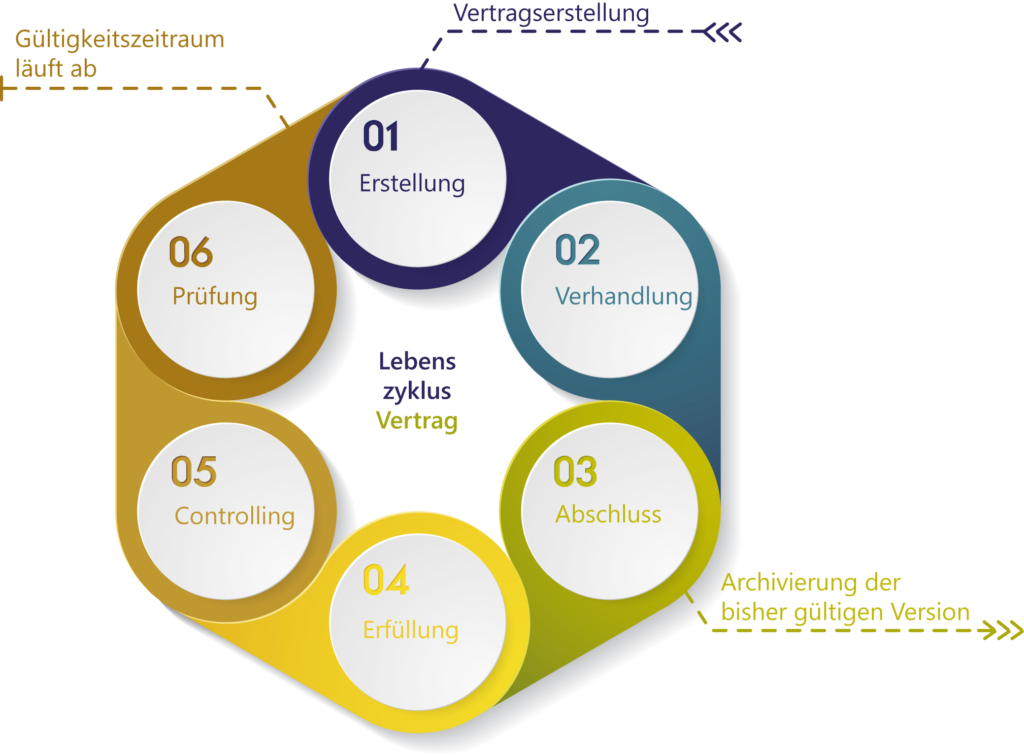 roXtra shows you which costs are incurred by which contract.
Enter all necessary data and information for your contracts, e.g. contract type, partner and number. Let the system continuously display the entered cash flows – for example, you can see what costs a contract will cause you until the end of the term.
Additionally, roXtra offers the possibility to display statistics on all contractual documents in comprehensive reports. Based on the evaluations, you can implement strategic decisions in a targeted manner, optimize your processes in the long term and increase your transparency and efficiency at the same time.
Clear responsibilities ensure the security and integrity of your contractual data.
Contracts often contain sensitive information which is only intended for the relevant responsible parties – for example the HR department or the management. Via roXtra rights management, you can explicitly define access to contract types, individual contracts or documents. Furthermore, individual action options can be clearly defined for each user. Of course, your employees always access the latest approved version of a contract.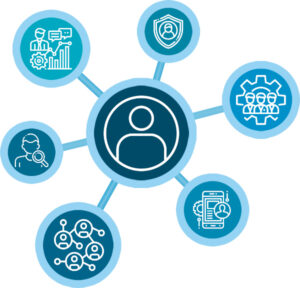 Functions and benefits of digital Contract Management

Practical contract recording

Working across locations

Simple, intuitive operation

Quick insight into reportings

Create contract templates

Intelligent deadline management

Secure, web-based access

Individual access rights

Management of all contract types

Automatic filing in the digital archive
More information about Contract Management with roXtra
Manage and archive contracts and electronic files reliably
The challenges of Contract Management
How many savings would you have in your company annually if you regularly renegotiated contracts or always terminated them on time? Contract Management and administration are complex and important tasks that save your company money and resources. Often, however, the processing and filing of individual contracts takes place exclusively in the relevant departments. As a result, important contract information – including terms, deadlines and costs – is not available to all responsible employees. This lack of transparency can lead to conflicts and complications and, in the worst case, to unnecessary high costs.
To counteract this cause in the long term, Contract Management software is required. This ensures that a contract is not lost sight of throughout its entire lifecycle. The user is accompanied by the software from the creation of the contract to the archiving of the valid version to the controlling. Important documents (e.g. e-mail correspondence, tenders, general terms and conditions, etc.) that are necessary for the creation of the contract can be stored electronically. Of course, this also includes the actual contract with its attachments. To make all this information centrally accessible in the company, everything can be stored in one system. This avoids media discontinuities and ensures simple management of electronic files.
Why roXtra Contracts?
roXtra takes Contract Management to a whole new level and supports you in the structured, secure and digital management of your contracts – from contract entry and deadline monitoring to audit-proof archiving. For each contract, you can store all important metadata such as contract type, contract partner and contract number. Corresponding financial flows can be easily maintained and continuously displayed: roXtra shows you, for example, which costs are incurred for an agreement over the entire period of validity.
In comprehensive reports, you can display statistics for all contractual documents in roXtra. Thus, you always have an overview of all deadlines and costs, you can react flexibly and have quick access to all documents including attachments – and always in the current version. All changes made to an electronic file (e-file) or to a contract can be quickly tracked by the user. Due to the organized filing and the practical full-text search, you can simplify searches within the entire contract portfolio. Furthermore, you can ensure that only authorized users can access the files and contracts.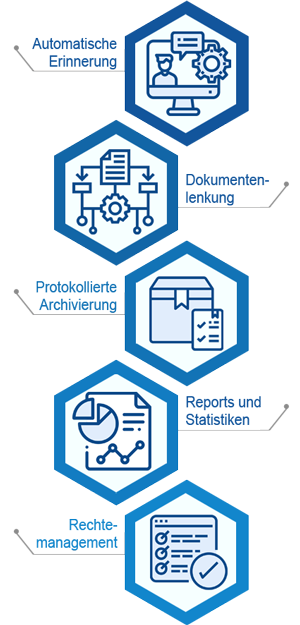 We will show you roXtra in a free and non-binding online presentation.