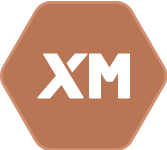 roXtra Action Management Software
Control and monitor all actions centrally, derive potentials for continuous improvement and implement them effectively.
roXtra Action Management Software
Derive and implement potentials for continuous improvement effectively
Implement improvements - prevent risks - optimise processes
What is action management?
Action management plays a central role in the context of holistic quality management, especially with regard to the continuous improvement of processes and products: it helps to uncover the potential for improvement, to derive corresponding quality-relevant tasks for optimisation, to implement them consistently and to track their success.
At the same time, conscientious management of actions enables an early response to risks.
In action management, inputs from various sources come together: from the results of your risk assessment and the indications from internal audits to the suggestions for improvement from your employees and the feedback from your customers. Action management is thus the central instrument for the continuous improvement of processes and products as well as for the prevention of risks.
Why roXtra Actions?
With your roXtra Measures module, you control and monitor the successful implementation of various immediate, preventive and corrective measures and keep an eye on your list of measures. You centrally bundle the input from various company processes, your risk management as well as suggestions for improvement and channel measures so that your company becomes better and better.
roXtra Measures supports you in monitoring the implementation status of your measures, summarising all important information, adhering to target dates, tracing responsibilities and checking the effectiveness of the successful completion of a measure. By linking measures with processes in roXtra Processes and with risks in roXtra Risks, you obtain a continuous documentation chain with which you can always keep an eye on your path of continuous improvement. In addition, you can also coordinate all measures across departments.
Thanks to the graphic filters, the most important information is visually presented directly to you and with the help of the export function, you can export your list of actions as a clear Word, PDF or Excel file with just one click.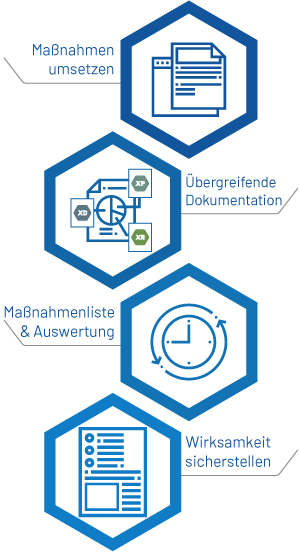 Successful action management for your company
Effective implementation of actions.
Do you want to keep track of your ongoing and completed actions, continuously track their status and define clear responsibilities for implementation and effectiveness checks? Perfect! With roXtra you can easily create and define your actions in a user-friendly dashboard, store a specific description of each action as well as additional information and assign tasks to the responsible employees.
With roXtra Actions, you can track the implementation status of each action and export your list of actions for e.g. inspectors and auditors with just one click. You have a wide range of options for sorting, filtering and evaluating the actions.
Implement solutions sustainably. Ensure effectiveness.
As a central element of the continuous improvement process (CIP), roXtra Actions supports you in sustainably implementing your tasks, improvements and solutions and ensuring their effectiveness. Therefore, the system offers you the possibility to set up automatic effectiveness checks for your deadlines, so that you can control and implement both short-term and long-term solutions.
Quick, vividly evaluation and list of actions.
The roXtra Actions module also supports you with regard to the traceability of your action management as well as the evaluation and creation of your action list. An audit trail is available for each action, in which all important changes are automatically documented by the system. You can also export your list of actions as an Excel, Word or PDF document, which gives you the opportunity to provide information quickly and easily, e.g. to your inspector or auditor.
Continuous documentation chain across all roXtra modules.
In roXtra measures, you combine input from different areas of the company, such as your risk management, your employees' suggestions for improvement and feedback from your customers or patients. For complete traceability, roXtra offers the possibility to link the different modules with each other, so that you can, for example, see directly in the respective measure which risks are the triggers for it. In addition, you can also create measures from other modules or link existing measures with processes or risks. Thanks to these cross-references, you can always trace the origins of your measures and maintain a complete chain of documentation during your CIP.
Advantages of measure management with roXtra

Simple recording of planned actions

Linkage with processes & risks
Intuitive form fields

User-friendly action dashboard

Simple evaluation of actions

A wide range of evaluation options
Automatic effectiveness test
Automatic action reports

Create, document & link sub-actions

User management with intuitive role concept
We will show you roXtra in a free and non-binding online presentation.